2016 Equipment Leasing and Finance Compensation Survey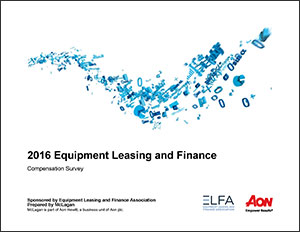 Product Details
NOTE: By purchasing this product, your firm agrees to participate in the 2017 survey. After paying for the survey, please contact Bill Choi at bchoi@elfaonline.org to obtain your copy.
The 2016 Equipment Leasing and Finance Compensation Survey measures compensation rates for the 2015 fiscal year as reported by more than 70 equipment finance companies representing a cross section of the equipment finance sector, including independent, bank and captive leasing and finance companies. Firms provide data for more than 90 executive, front-office and support positions, including a breakdown of salary (for 2015 and 2016), incentives (including cash bonuses and commissions), long-term awards and total compensation by company type. The survey is a collaborative initiative between ELFA and McLagan, a performance/reward consulting and benchmarking firm for the financial services industry.
Tags ERsrch - Data, Benchmarking & ForecastingERsrch - Data, Benchmarking & Forecasting; ERsrch - Equipment ManagementERsrch - Equipment Management; ERsrch - Human CapitalERsrch - Human Capital; ERsrch - Operations & TechnologyERsrch - Operations & Technology; ERsrch - Risk ManagementERsrch - Risk Management
Additional Product Photos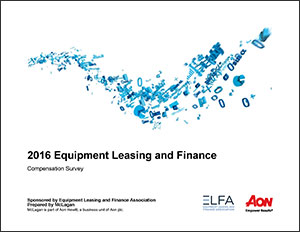 Site Maintenance
Our system is currently down for scheduled maintenance. Your member services will be available again shortly. Please check back soon.