EL&F May/June 2015 – New Territory, New Rules: Non-standard financing agreements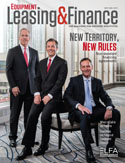 Product Details
Non-standard financing agreements and the throng of services covered could pack an intangible wallop. How will equipment-finance firms, used to leasing and financing mostly hard assets, transition to bundling, supplying, tracking and charging for an exploding number of capabilities that customers can't touch and don't want to own, but that can be used in the blink of an eye?
Tags EArt - Funding & Alternative FinanceEArt - Funding & Alternative Finance
Additional Product Photos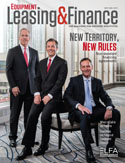 Site Maintenance
Our system is currently down for scheduled maintenance. Your member services will be available again shortly. Please check back soon.