EL&F January/February 2016 – Report Reveals Top Technology Trends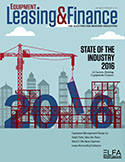 Product Details
After years of focusing on improving their front-end technology systems, equipment finance companies are now focusing on their back-office technology systems. That's a key finding from the 2015/2016 Business Technology Performance Index.
Tags EArt - Operations & TechnologyEArt - Operations & Technology
Additional Product Photos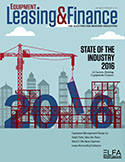 Site Maintenance
Our system is currently down for scheduled maintenance. Your member services will be available again shortly. Please check back soon.